https://squareup.com/gift/6YX65F8YJC5S7/order
Facials
*All facial treatments include relaxing hand, arm, shoulder and neck massage.
Express Treatment...$45
This treatment will leave you exfoliated and nourished with the essentials you need for a healthy glow and skin nutrition. The treatment includes cleansing, exfoliation, a customized mask, moisturizer. **Does not include massage or extractions. A quick pick me up when time is sensitive. (40 min)

Relaxing Treatment...$65
A specially customized facial for all skin types. Includes Dermafile & Celluma LED light to soothe & hydrate the skin. You'll be glowing safely! (75 min)
Clear Skin Treatment...$75
Specifically for acneic skin. Designed to treat excess oil and help heal blemishes for clean, refreshed, healthy skin. Includes extractions and use of Celluma light therapy which kills off cystic acne bacteria deep under the skin without the use of harsh antibiotics. (80 min)
Medi Infusion Treatement...$115
(Includes neck & decollete)
Our most asked for treatment! Offering immediate and long term results. Enhances product absorption and drives active ingredients deep into the skin for optimal skin restoration. Stimulates circulation, softens fine lines, reduces scarring, lifts hyper pigmentation, improves hydration and controls breakouts. Nano needling technology delivers safe, immediate results with no downtime. No other facial on the market gives these types of short and long term benefits. Whether you want to look your best for a night on the town tonight or for a big event six weeks from now, this treatment is for you! (110 min)*A series of 4-6 is recommended for optimal results.
Sculplla Filler Treatment...$200
($600 series of three,...$690 value)
(Prepaid series includes Stem Cell Mist, $90 value)
New, innovative, botox free, needless filler treatment! This serum + mask treatment stimulates your skin to make it's own collagen, giving you firmer, plump and smoother skin. There is no downtime, except avoiding water and sweat for 12 hours, and the results are cumulative. One treatment can last for five weeks and series of three treatments done one week apart can last for five months.
Hydro Derm Treatment...$125
Advanced Treatment focused on Renewal - Reviving - Cell Energy - Anti Aging. Includes a double cleanse with Hydrogen Water to offset bacteria and free radicals. Enzyme with microdermabrasion, hydrogen toning, oxygen treatment, LED, and serum infused hydration.
V Lift Gold Treatment...$200
This luxurious treatment lifts, tightens and tones the neck, jawline & facial structure and leaves you with the glow that only nano-gold can give!
Gentleman's Facial...$50
This nourishing facial soothes skin irritated by daily shaving. Includes neck, shoulder, and scalp massage. (45 min)

Back Treatment...$40
This treatment will bring purity and balance to the skin on the back, focusing on cleansing, exfoliation, back massage, and a custom masque. Perfect if you are having skin challenges, seasonal skin changes, or a special occasion. (45 min)
Thermo-Clear...$75 (per 15 min)
Thermo-Clear (pain free)...$105 (per 15 min)
The Thermo-Clear works on the epidermis with a low electrical current that dehydrates or removes the area of concern, on your face and hands. It is used to quickly and painlessly remove imperfections such as skin tags, spider veins, sun spots, age spots, and more. There is little down time associated and the pain is minimal to none. Typically this is done in one treatment and can be permanent. This treatment may be scheduled alone (without facial). There is nothing like this! NO lasers can be as precise and give you immediate satisfaction, so get ready to remove those "skin barnacles!" (consult therapist before scheduling)
Enhancements
Kansa Wand Massage...$20-35
(30 min for ONLY $35 - Includes Full Face & Neck)
(15 minutes for ONLY $20 )
Take your facial to the next level with Ayurvedic Kansa Wand massage. Feel completely relaxed, revitalised and rebalanced. Your skin and your soul will be glowing!
Thermage...$15
A non-invasive, zero downtime, renewing treatment. Soothing pulses of light and heat promote cell renewal, resulting in tightening & contouring over time.
Massage...$10
Include a relaxing 10 minute neck & shoulder massage to any treatment!
Neck & Decollete...$25
Treat the neck just like you would the face. Add onto any facial.
Bright Eye Treatment...$15
Hand Paraffin Treatment...$20
Treatment is saturated with natural plant extracts, moisturizers, and peptides to deliver parched hands a powerful dose of moisture.
Dermafile...$15
A holistic alternative to traditional microdermabrasion. Gentle skin resurfacing treatment using finely crushed cosmetic diamonds. This will lightly polish, leaving velvety smooth skin. Effective in treating sun damage, acne scarring, fine lines, and enlarged pores. Gentle enough for even the most sensitive skin.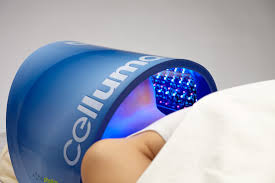 Celluma LED Therapy...$20
Daily Rental...$50
Weekly Rental...$250
Relax and take a facial nap under the glowing Celluma panel, a technology brought by NASA. This FDA approved medical device has proven to dramatically stimulate collagen, reduce inflammation, kill acne bacteria, heal damaged skin all while increasing moisture retention and improving the oxygenation of cells.
The red light stimulates collagen, shrinks pores and lightens hyperpigmentation, especially good for melasma. The blue diode clears up acne and helps the skin to heal and regenerate.
Approved by the FDA as a pain relief agent, it is wonderful for those suffering from arthritis, muscle & joint pain/ stiffness and diminished local circulation.
Omega LED Xenon Therapy...$30
Xenon therapy uses IPL technology at a greater distance, to treat redness and pigmentation without downtime or pain! Save for all skin tones. LED can help wrinkles, acne, pigment and redness.
Threading
Threading is an ancient form of hair removal practiced with a simple piece of twisted thread, which moves against unwanted hair, precisely pulling each hair out by the root causing little to no redness. Threading is a great alternative for clients who tanned 24 hours prior, those with sensitive skin and/ or use topical prescription medication. A natural and safe way of removing unwanted hair!
Sugaring
Sugaring is a less abrasive form of hair removal containing only sugar, lemon juice and water. No chemicals, No resins, No preservatives, 100% Natural, 100% Sanitary, No double dipping, No Burning, No Tearing, Longer lasting results. Ideal for the most tender areas of the body. By far, the most superior form of hair removal available today!
Epil Free
Permanently reduces hair without laser.
Provides exceptional results that are equal to laser, but without the limitations and cost.
It is a natural solution for unwanted hair that works with waxing, so it is suitable for everyone. Any skin tone or hair color, including blonde, gray, red and even fine vellus hair.
Like laser hair removal, a series of 6-12 treatments is typically needed to effectively reduce the hair in most areas.

Prior to Treatment – Clients must arrive for treatment with clean skin. Absolutely no residue of lotions, creams, makeup, powders, deodorant, etc. can be on the skin as these may block the follicles.
*Avoid contact with water for 6 hours after treatment
*Avoid exercise or sweating 6 hours after treatment
*Cannot apply any makeup or products to treated area for 6 hours after treatment
*Regular treatment schedule improves outcome
*Avoid tweezing or waxing between treatments
Discount packages available!
Waxing
***Before waxing please notify your therapist if you are using any exfoliating creams (Alpha hydroxy acids, retin A, glycolic). Accutane as well as other medications, this can cause serious side effects such as scabbing. You also must be 18yrs or older to have waxing done. Please bring a parent or guardian to sign if you are under age***
*Soothing Mask/ Celluma $10-25 (optional add on to any waxing service)
Treatment Area

Traditional

Waxing/ Sugaring

Epil-Free Permanent

Hair Reduciton

Eyebrow
$10
$25
Eyebrow Shaping
$15
$25
Lip/ Chin/ Nose or Sideburn
$10
$18
Full Face
$45
$75
Underarm
$15
$32
Hands
$25
$55
Full Arms
$40
$90
Upper/ Lower Leg
$35
$80
Full Legs
$55
$120
Upper/ Lower Back
$15
$35
Abdomen
$20
$45
Buttocks
$12
$45
Bikini
$30
$55
Brazillian
$50
$105
Men's Nose/ Brow or Ear
$12
$25
Men's Chest & Abdomen
$60
$130
Men's Back
$55
$120